A Special Three-Part Series for Registered Attendees of
My One-Week Wonders Trading Event
Part III
Is Wall Street Rigged?
By Mark Skousen
Featured Speaker, One-Week Wonders
I wanted to thank everyone I've heard from over the past two days.
Your feedback has been very helpful as my team puts the finishing touches on my One-Week Wonders presentation for this coming Wednesday.
If you missed any of the first two parts of this email series, we've posted them here, so you can catch up.
As you know, our aim with One-Week Wonders is to find trades that can double your money in one week or less.
And, during my LIVE event on Wednesday, November 6th, I'll be revealing all the details of how my brand-new quick-strike system makes that possible.
But, before then, please take a look at Part III of this series below.
It will show you how my new system makes it easy for you to avoid buying the right stock at the wrong time.
If you've ever lost money in the market, you might've asked yourself this question…
I address that question just below, but first I wanted to bring up something that I often hear from investors, and that I think we can all relate to.
They decide to buy a stock, maybe even a popular stock, after following it for a while, watching it rise, and maybe even making others rich over time.
Then, like clockwork, as soon as they bite the bullet and buy some shares, the stock goes down.
The opposite is often true as well.
Many folks sell a stock after it goes nowhere for months or years, and as soon as they dump it, the stock jumps and they miss out on all the big gains…
Never being rewarded for their patience.
It almost feels like someone out there is watching you personally and waiting to frustrate you at the very first move!
Does that sound familiar?
It happened to me quite often when I first got into the business over 40 years ago.
There are so many reasons for this, including irrational investor emotions, buying at tops, market makers, and more that we won't go into here.
But the fact is that — on average — most stocks go sideways 90% of the time.
Often times, the share price POP and subsequent big gains for the year happen in only a matter of days or weeks.
And it's really hard for the average investor to time it just right.
Investors trying to figure this out on their own often, quite simply, have no chance.
For example, the S&P 500 Index was up 18.01% for the year through September.
And of that 18.01% gain, 14% of it was made in the first 10 weeks of the year. The market mostly moved sideways after that.
Here's another example with the popular retail stock Target (TGT):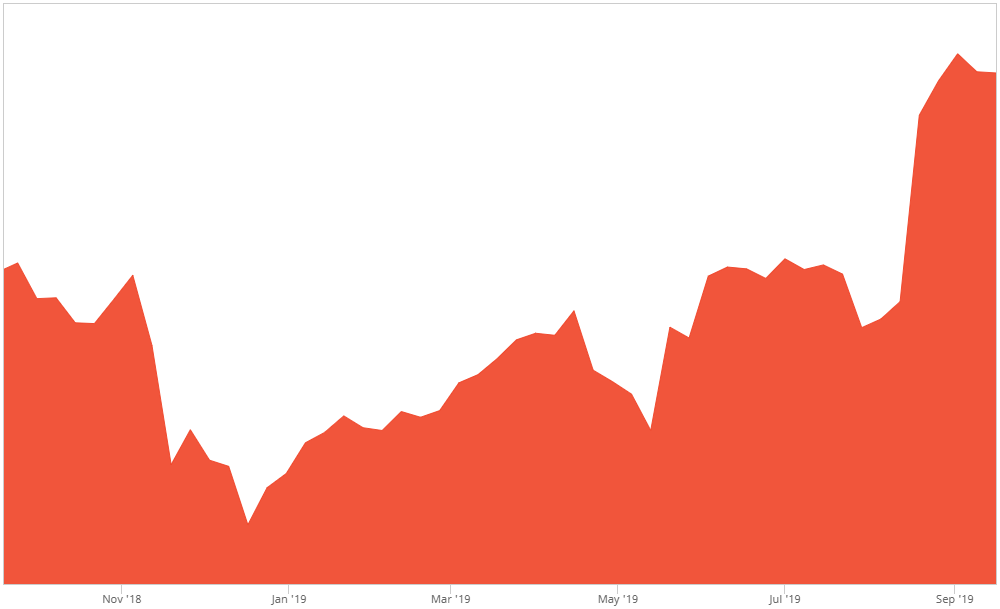 From Sept. 19, 2018 to Sept. 19, 2019 (an entire year), the stock went from $87.16 to $107 — capturing a gain of 23%.
However, for the first 11 months of that 12-month period, the stock actually LOST $5 per share, or 6.5% down, to $81.58.
Then, from Aug. 19, 2019 to Sept. 6, 2019 (in just 18 days), the stock rocketed upward to $109.85… gaining a total of 34.6%.
More than an entire years' worth of gains, PLUS an additional 11%, was made in just those 18 days you see in the chart above.
Unfortunately, these are the types of pops most investors miss out on.
Back around Christmas time last year, many bailed on this stock.
The market was already in the midst of a severe correction, and retail stocks got hit even harder after Christmas sales were projected to be bad for the season.
The financial media at the time were bashing retail stocks when Target was trading at $61, so those who bailed out missed a 65% gain in the stock just nine months later.
My system has a great track record of identifying these pops and getting in ahead of time, and out early — when we then look for the next opportunity.
This Target example was really frustrating for investors.
That's because nine times out of ten, consumer discretionary stocks like these usually RISE in the last three months of the year due to holiday sales.
October through December, these stocks are often the best performing group out of the nine S&P sectors.
It's almost a given.
But the market didn't cooperate last year.
That's one of the reasons I'm often asked, "Is Wall Street rigged?"
Do traders and market makers intentionally drive folks out of a stock over time just so they can get back in before the pop?
It often seems that some folks frequently buy the right stock at the wrong time. They've done some research, but often not the right research.
As soon as they get into a stock, it drops… and as soon as they sell the stock, it miraculously rises from the ashes.
It's frustrating and can cost you a lot of money.
My system, on the other hand, can let you sidestep all that frustration.
It gives you the chance to buy the right stock at the right time. So you can reap the reward quickly and move on to the next opportunity. 
Whether these moves are the shady work of Wall Street or not, we don't care.
We just know there are certain triggers that occur in the days and weeks before a big pop that forecasts these types of moves.
As an investor, you need to pay close attention, because they often point toward one of these big moves in the near future.
So we trust our time tested system to tell us when it's time to buy.
Having this disciplined plan in place has helped us rake in some monster winners over the years.
Like these…
| | |
| --- | --- |
| AT&T (T) | + 1,700% in seven days |
| MCG Capital Corp. (MCGC) | + 400% in eight days |
| Beyond Meat (BYND) | + 373% in four days |
| Southern Peru Copper (PCU) | + 356% in six days |
| Enerplus Resources Fund (ERF) | + 340% in six days |
| H&E Equipment (HEES) | + 340% in seven days |
| General Motors (GM) | + 336% in six days |
| Drive Shack (DS) | + 283% in six days |
| Raytheon Corp. (RTN) | + 232% in one day |
| Scotts Miracle-Gro (SMG) | + 206% in five days |
| Prologis Inc. (PLD) | + 180% in seven days |
| AstraZeneca PLC (AZN) | + 150% in six days |
| Zenith National Insurance (ZNT) | + 131% in seven days |
| Seagate Technology (STX) | + 117% in six days |
| Seaspan Corp. (SSW) | + 113% in six days |
It's easy to see how quick-strike winners like these, week after week, make it possible for you to acquire massive wealth in a relatively short period of time.
Possibly even $1 million or more in under a year, as I'll show you during my LIVE event this Wednesday.
I'll also reveal a way for you to get out of the gate quickly — so you have the best opportunity to bag a few winners of your own before the holidays.
Just this past week, my new quick-strike system zeroed in on three incredible opportunities that could potentially double your money in one week or less.
They are poised for explosive growth RIGHT NOW, and I'm going to give you the chance to be one of the first folks I send them to.
These have the absolute best chance to pop 100% or more each… in one week or less.
And on Wednesday, November 6th, during my One-Week Wonders presentation, I'm going to share all my research on these three stocks.
This could literally change the way you invest forever, so I look forward to seeing you there.