A Special Three-Part Series for Registered Attendees of
My One-Week Wonders Trading Event
Part I
Home Run Trades: Finding a Consistent Way to Double Your Money in One Week or Less
By Mark Skousen
Featured Speaker, One-Week Wonders
I want to thank you once again for registering for my upcoming One-Week Wonders event. I'm really looking forward to it, and I hope you are too!
I created it to show you how to consistently find trades that can double your money in just one week… or less.
I call them Home Run Trades!
Like the great home run hitter Mickey Mantle, our goal is to swing for the fences… To hit as many home runs as possible each year — and hit them out of the park with lightning-fast speed.
And, yes, all in one week or less!
You're not going to want to miss this.
So, please mark your calendar now, if you haven't already: Wednesday, November 6th, at 2PM Eastern Time.
To help you get the most out of this event, I've prepared this special Quick Start series to give you a peek under the hood of my brand-new, quick-strike trading system, along with a sneak preview of my November 6th event.
That way, you'll be well prepared to take advantage of what I'm going to share that day, and be able to act on it right away.
In fact I'm going to give everyone who attends my event a chance to get my first three Home Run Trades — the picks that I believe can each double your money in one week or less.
All you need to do is attend my special event next Wednesday, November 6th, for all the details.
In the meantime, here is Part I of your FREE Quick Start series:
Home Run Trades: Finding a Consistent Way to Double Your Money in One Week or Less
My trading team and I have had a sensational run over the last 16 years.
During this time we've closed out a total of 347 monster winners, including…
119 double-digit winners…

218 triple-digit winners, and…

10 quadruple-digit winners!
That's an average of about two big winning trades per month!
And most of these were captured in about three months or less.
So I started thinking, "How can we possibly improve on this very successful stock picking system that has powered these returns?"
I decided to challenge my trading team to make the system even stronger.
You see, tucked away inside these 347 winners were actually 31 trades that doubled in value… in just one week or less!
So my team and I went to work to find MORE of these Home Run Trades. Specifically, one or two opportunities a week.
It's been no easy task. We audited our trades over the last 16 years, closely analyzing every single one of my big winners.
Especially the ones that POPPED quickly…
Those which more than doubled in value in one week or less.
Like these…
Raytheon Co. (RTN), which shot up 232% in just 1 day…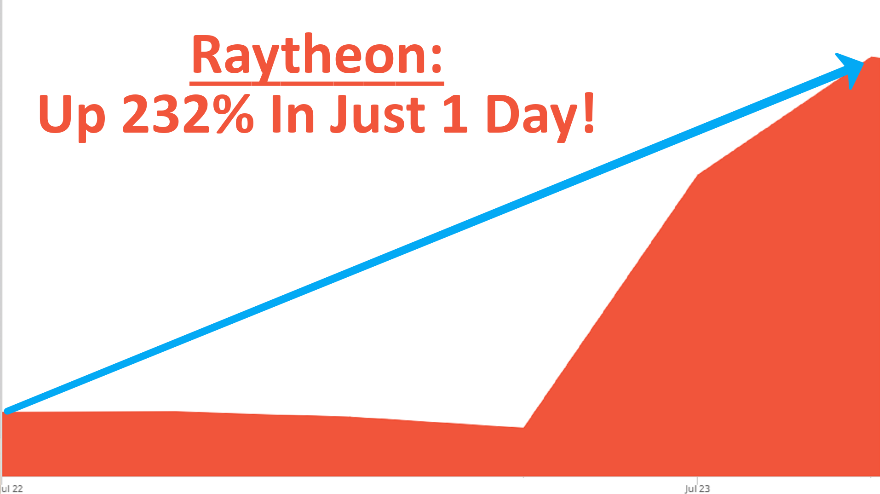 Drive Shack (DS), which rocketed to a 283% gain in 6 days…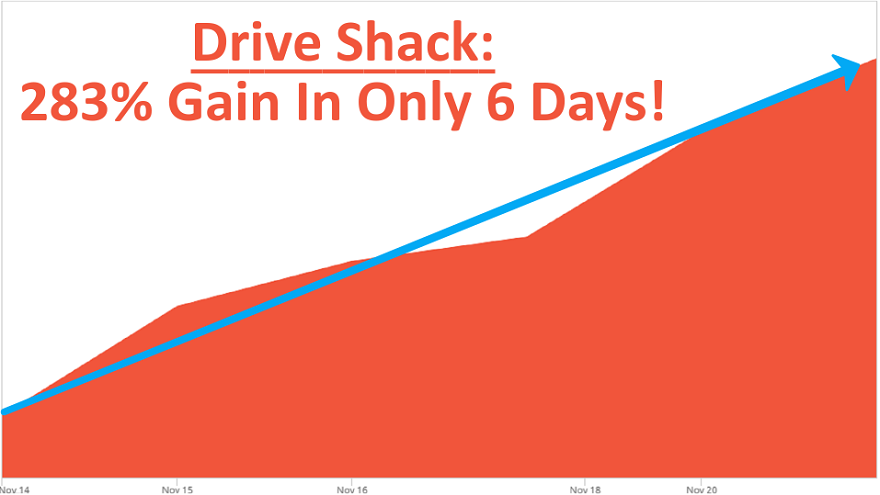 Southern Peru Copper (SCCO), where we made 356% in just 6 days…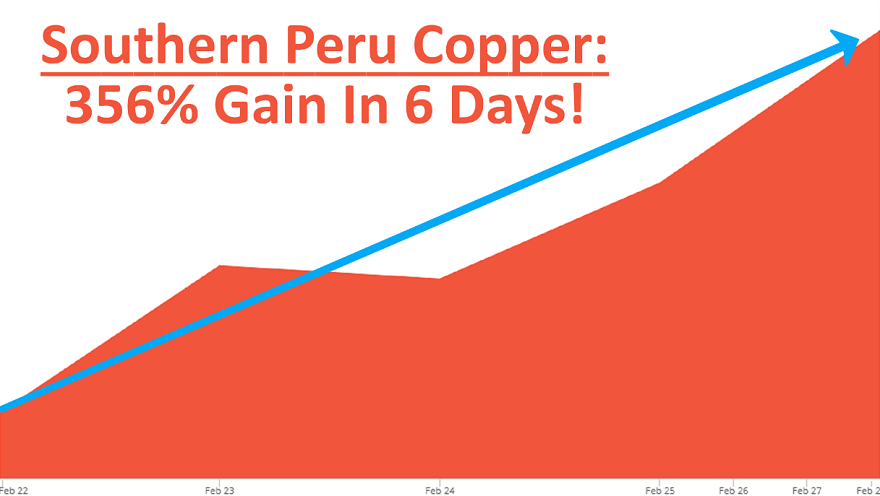 And Seaspan Corp. (SSW), where we captured a 113% gain in 6 days.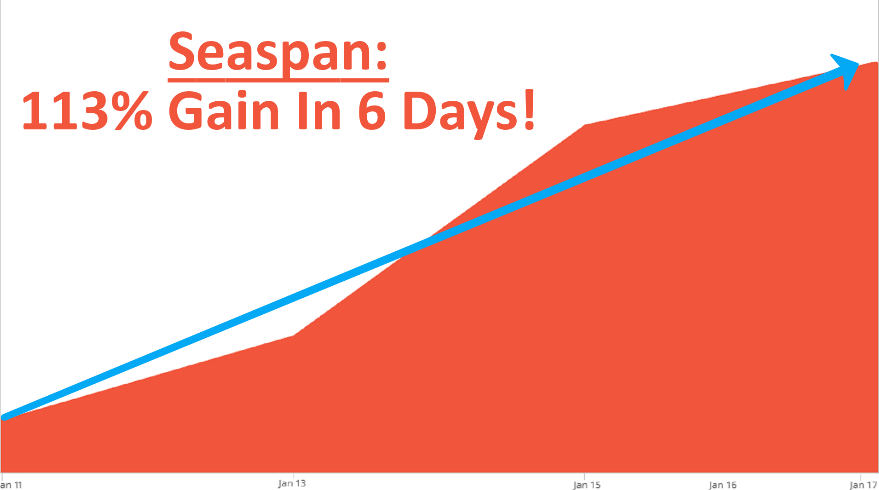 Here's the thing…
We noticed the ones that popped in a week or less had a few key characteristics in common… which the others didn't.
(I'll reveal exactly what those are during my upcoming LIVE event.)
The critical piece was that I wanted to continue to identify the big double-, triple-, and quadruple-digit winners we've gotten used to over the years… AND speed up the time of the returns as well.
So it would give us the chance to capture these gains — that normally take 30 to 90 days to achieve — in one week or less.
And I have to say, after seeing what my team and I came up with, you'll agree we really hit the jackpot this time!
It may be the only consistent way to double your money in one week or less.
It's so powerful that it could turn a $1,000 investment into a cool $1 million in just one year.
If you have the time to make just one or two simple trades a week, you've already got what it takes to secure an "instant retirement" using my new quick-strike system.
So, join me on Wednesday, November 6th, at 2PM Eastern Time during my One-Week Wonders presentation.
I'll go into greater detail on my system and how using this strategy makes it possible to turn $1,000 into $1 million in just one year.
You'll also learn the secret to consistently finding stocks that have the potential to double your money in one week or less…
All by taking advantage of my proprietary new Home Run Trader quick-strike system.
To help you further prepare for Wednesday's presentation, I'll be sending you Part II of my Quick Start Guide tomorrow.
Look for it in your email inbox… and please, feel free to email me your questions at OneWeekWonders@StockInvestor.com.
I'll be answering questions during our broadcast on Wednesday, November 6th, and I hope to get one from you.